More Surname History (Origin & Meaning) Coats of Arms (Family Crest) Products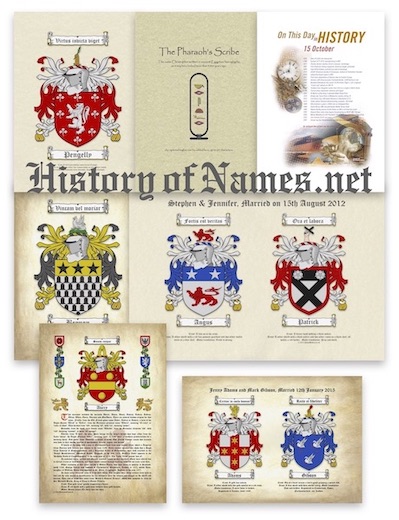 This website focuses mainly on high quality instant and non-instant downloadable and printable surname histories (last name origin and meaning) with the associated coat of arms (or family crest). We also have several related websites as shown below.
Surname history scrolls with coat of arms are available as high quality downloads from this website at HistoryofNames.net. If you would rather order an A4 or A3 size product printed, then please see our other website at HistoryofNames.uk – please note that printed versions may not be available for postal delivery to some countries.
Also from HistoryofNames.uk you can order single and double coats of arms (family crests) printed on A4 or the larger A3 size, or order as downloadable products in the A4, A3 and US Letter sizes. The single and double coats of arms or family crests (for weddings, anniversaries, etc.) can also be ordered as a downloadable and printable product from this website here.
HistoryofNames.uk products also include surname history with coats of arms coasters, keyrings (or key rings), first name history scrolls, The Sands of Time (On This Day In History), The Book of Me and The Pharaohs Scribe for first names. NameHistory.uk also offers the same printed and downloadable products.
For high quality downloadable coats of arms (family crest) images, please see our websites at SurnameCoatsofArms.uk and CoatsofArms.net – our Coats of Arms page on this website includes images of the different coat of arms designs available.
Surname shields and crests are also available as high quality downloadable images at SurnameShields.uk and SurnameCrests.uk.